Solo adventurer says she's relieved to be back on land
June 12, 2012 -- Updated 1104 GMT (1904 HKT)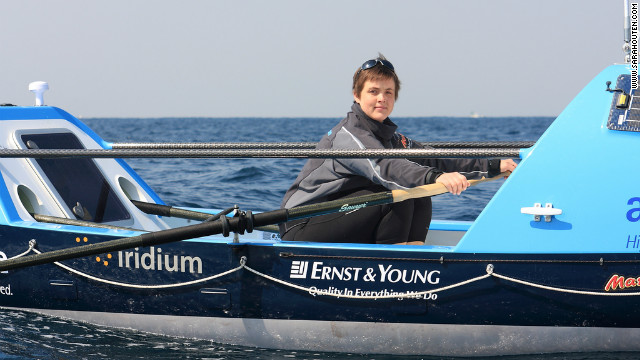 British adventurer Sarah Outen is seeking to become the first woman to row solo across the North Pacific.
Outen will cross the Pacific on a custom-made seven meter boat named Gulliver.
The Pacific crossing is part of a larger voyage that will see Outen circumnavigate the globe without the use of any mechanical engines.
She has travelled 11,000 miles so far, traversing Europe and Asia by bike and canoe.
If all goes to plan, the Pacific crossing will take roughly six months to complete.
Outen has prepared extensively for the physical and psychological challenges that face her, including boat capsizes and extreme weather.
Pacific rower
Traveling companion
London to London
On the road
Life at sea
Best preparations
STORY HIGHLIGHTS
Sarah Outen tweets a picture of herself from a Japanese hospital
Outen was attempting a round-the-world solo journey when her boat was damaged
She was rescued by the Japan Coast Guard, though her boat is still at sea
Another solo British rower is also rescued
(CNN) -- A British adventurer rescued after a failed attempt to sail solo around the globe says she is relieved to be back on land.
Sara Outen tweeted a photo of herself late Saturday from a Japanese hospital where she is undergoing evaluation after the nation's coast guard rescued her when her boat became disabled.
"Relieved to be back on land and with friends," Outen tweeted.
Outen began her solo circumnavigation April 1, 2011, in London with plans to cycle, row and kayak more than 20,000 miles. She hoped to finish in London in autumn 2013.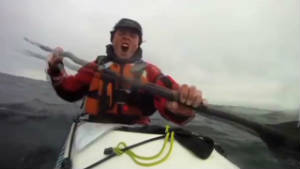 2011: British adventurer on 20,000-mile trek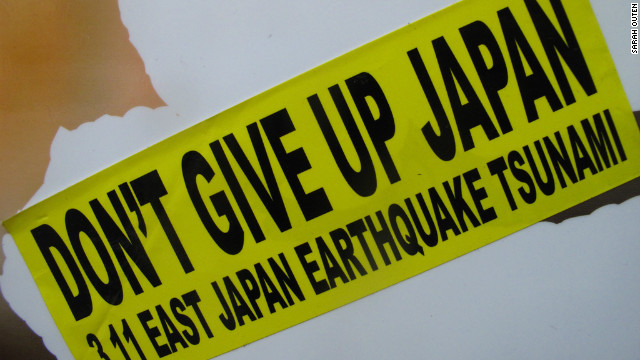 A poster encouraging people not to give up nearly one year after Japan was shattered by an earthquake and tsunami
One of the first tasks British adventurer Sarah Outen did was to help plant a memorial garden on the plot where a house once stood.
In Japan, people use this kind of breeze block altar with offerings to the dead
Two volunteers preparing to go in and bleach and scrub the wooden frames of a house.
Sarah Outen says that the tsunami has reduced part of the once crowded island to gaping holes.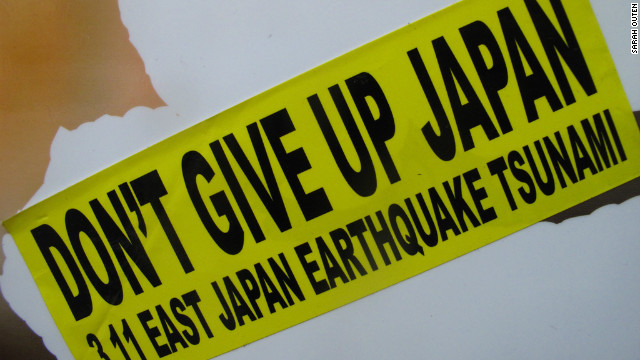 Volunteering in Ishinomaki, Tokyo
She was traveling alone when her boat was damaged during a tropical storm, rolling several times. A nearby merchant vessel and a coast guard plane kept watch on her until the rescue ship arrived.
Outen kept followers apprised of her ordeal in real time, tweeting from sea: "Focusing on calm trying2 block out wind and waves. Visualizing family and friends pulling us in."
More from Mainsail: The sailing world's hardest race
She was rescued Friday, though rough waters made it impossible for the Japan coast guard to tow her boat Gulliver back to port.
"As expected, due to adverse sea conditions, it was not possible to tow Gulliver back to land.," Outen's support team, London2London, said in a blog post Saturday. The team was "looking at options regarding Gulliver."
Outen was halfway to her goal when her boat was damaged. Her team says she has cycled and kayaked more than 11,000 miles, going through countries including Germany, Poland, Ukraine, Kazakhstan and China.
Meanwhile, a second solo British rower who was stranded about 280 miles northeast of where Outen was found has been rescued, according to his website.
Charlie Martell was attempting to row 6,000 miles across the Pacific when his boat was disabled by the same tropical storm that damaged Outen's Gulliver.
He was rescued late Friday by a Russian crew, his website said.
"Charlie spoke briefly to his support team to confirm that he is in good shape and uninjured, following a 36-hour wait since issuing the mayday signal," according to a posting on his website.
CNN's Kyung Lah in Tokyo contributed to this report.

Part of complete coverage on
MainSail
May 23, 2013 -- Updated 1110 GMT (1910 HKT)

Coming face-to-face with 25-meter waves, spending months on end without human contact, and shrinking your world to the confines of a 10-meter boat.
May 15, 2013 -- Updated 0012 GMT (0812 HKT)

20 years of passion and a few million euros later, a French sailor has created the Hydroptere -- one of the fastest sailboats in the world.
May 15, 2013 -- Updated 1039 GMT (1839 HKT)

Sailing around the world is one of the most grueling challenges on the planet, with muscle-bound skippers steering 20-meter yachts through everything from tropical cyclones to Antarctic storms.
May 9, 2013 -- Updated 1442 GMT (2242 HKT)

For centuries, lighthouses have illuminated the most treacherous coastlines in the world, offering a beacon of hope to sailors in the depths of darkness.
May 7, 2013 -- Updated 0931 GMT (1731 HKT)

Silently huddled on the water's edge, waiting hours on end for a hint of action, may not be everyone's idea of a pleasurable pastime.
April 25, 2013 -- Updated 1158 GMT (1958 HKT)

Richard Branson's 1986 speedboat has been found in a Spanish boatyard and is being restored to its former glory.
March 13, 2013 -- Updated 1057 GMT (1857 HKT)

Perfect for guests wanting water views with the convenience of dry land, our top 5 'boatels' include a WWII submarine and 1960s lifeboat.
March 13, 2013 -- Updated 1235 GMT (2035 HKT)

A series of haunting photographs of an imagined underwater world make up the first ever underwater gallery aboard a sunken ship.
March 5, 2013 -- Updated 1137 GMT (1937 HKT)

Is this history rewritten? Ex-Royal Navy officer embarks on a voyage to prove that Phoenicians could have beaten Columbus by 2000 years
February 7, 2013 -- Updated 1836 GMT (0236 HKT)

As MainSail prepares for the unveiling of the longest yacht ever made, we find out whether there's any limit to how big a boatmaker will go.
January 31, 2013 -- Updated 1422 GMT (2222 HKT)

Featuring glaciers, barren cliffs, rugged shorelines and savage sea swells, these are the seven deadly islands of the world.
January 31, 2013 -- Updated 1750 GMT (0150 HKT)

A group of Australian explorers emulate Shackleton's epic survival journey, using almost exactly the same equipment and rations.
Today's five most popular stories